Hey Guys!!
As you may or may not know I AM A TV SERIES ADDICT *don't worry I know my limits*. What can I say? I have a lot of free time and it's so easy to get wrapped up in shows. Binge watching shows isn't all bad; it could be a stress reliever in some ways. Think about the idea of forgetting about all your problems for a couple of hours and getting entangled in another world. Seems safe enough right?
So I watch a variety of shows, but I think they mainly revolve around supernatural beings, teenage drama, action films and marvel series. This list is mainly what I've binge watched recently and currently watching on TV.
---
13 Reasons Why
After the first 10 mins I really couldn't go on, but later due to all the hype surrounding the show I decided to give it another try. I'm pretty sure you've heard of this show by now. If not, it's about suicide awareness; where a teenage girl who went through bullying and assault decided suicide is her only way out.  She leaves behind 13 tapes of reasons why she made her decision. I'm still debating making a separate post about all this.
---
GREENLEAF
This show is completely different from what I usually watch; yes the drama is there but it's so much more. It is executive produced by Oprah Winfrey and displays a church family who seems all prim and proper on the outside, but on the inside? Watch and find out! Secrets after secrets spill out with every new episode.
---
DESIGNATED SURVIVOR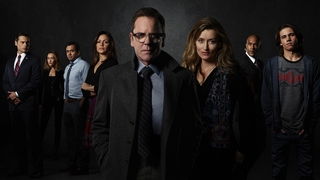 After House of Cards I wasn't sure if I'd like any more American political dramas, but this one was different. Unlike Frank Underwood who was on a revenge mission, Tom Kirkman got thrown into this position. It's hard to believe that's how the system works but watching as all the drama unfolds around the white house made me finish season 1 in two days.
---
GILMORE GIRLS
Where would I be without my teenage drama show? However, this is also a family/comedy drama; not sure how I never watched this before. It ended almost 7 years ago with 7 seasons and 153 episodes; I'm currently on season 5:episode 9. I watch it from time to time when I'm not feeling for the usual stuff.
---
DON'T TRUST THE B—- in APT 23
Some days you just need some laughter and this does it for me. A typical american sitcom which was cancelled early. There are 26 episodes on Netflix, sadly only 22 minutes long.
---
RIVERDALE
Another teenage drama film which premiered this year and is based on the Archie comics. It's still in its first season, but I had to play catch up; binge watched the first 10 episodes in two days.
---
Currently watching on TV *when I remember*:
– Prison Break ( after seven long years it returns), Tuesdays on FOX
– Greenleaf, Wednesdays on OWN
– Scandal, Thursdays on ABC
– The Originals, Fridays on The CW
What shows are you currently watching?
What's a definite binge worthy show to you?
Let me know!